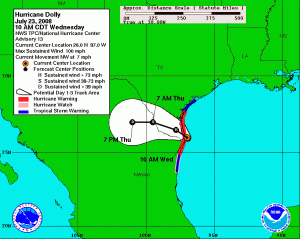 As I'm at the mercy of the folks here with the DEMOB unit, I'm stuck with a flight with 2 layovers…one of which is in Houston this afternoon. You know, the Houston that's about 250miles northeast of where Category 2 Hurricane Dolly is making landfall today. Needless to say, George Bush Intercontinental/Houston Airport (IAH) is experiencing a few delays. According to the FAA:
Traffic destined to this airport is being delayed at its departure point. Check your departure airport to see if your flight may be affected.
…but like I said, I'm at the mercy of the DMOB unit, who has advised me to ride it out – and check for other possibilities at my first layover (San Francisco).