An upper level trough pushing over the northwest U.S. today will be enough to spawn thunderstorms. Maintaining the stance here that the majority of the moisture and instability would be off to the north and east of our incident. That said, I couldn't completely rule out convection this afternoon and tonight so I mentioned a "less than 10% chance" of thunderstorms over the incident itself. As dry as we are, any storms that form would likely be dry thunderstorms – and/or there will be wind with any cumulus build-ups. So, despite the slim chance of activity – it would be a high impact event – and thus warranted mention.
No one was surprised, as I'd been explaining the situation and the uncertainty in convection chances for a couple of days along with this system as the reason for the daily mention at briefing while still leaving it out of the official forecast.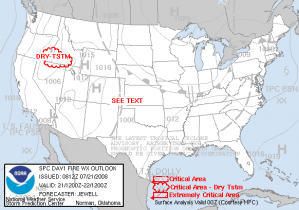 I leave here on Wednesday.