I've learned a couple of things in the past couple of days:
1. When you have a layover in Ontario, your flight originated in El Paso, and the leg to Ontario was only about 2 hours long – you're not in Canada. There were French books at the airport for god's sake!
2. No one here knows how to spell Manilla…er, Manila. It's "Manilla" on the national situation report, it's "Manila" on our products here on the fire. Google Earth will take you to a town called "Manila Creek" with a road called "Manilla Creek Road" running through it. Now, when I'm asked how to spell "Manil[l]a", I just say, "yes". As, apparently you can pick any way you'd like. Today: "Mannilla".
I won't stop learning there!
Things are going well here at camp. I'm set up in a community center building in Nespelem, WA. Internet is provided – so I didn't have to screw around with our personal internet satellite thing – which is nice.
The fire didn't move a whole lot today with light winds…things are set to change though. My short-term forecast discussion for tomorrow's forecast:
An approaching cold front and an associated upper level trough will bring strong gusty winds to the fire this afternoon. Although still quite dry; this afternoon?s winds will accompany slightly higher relative humidity than was seen yesterday afternoon thanks to increasing clouds and cooler afternoon high temperatures. The cold front will slide across the area tonight, bringing a slight chance of rain showers overnight tonight and into Monday ? although a wetting rain is very unlikely. Even cooler temperatures on Monday will help keep minimum afternoon RH?s above 20 percent across the area.
My briefings are going great. I jumped in well after getting here so late last night.
The entrance to the building I'm in: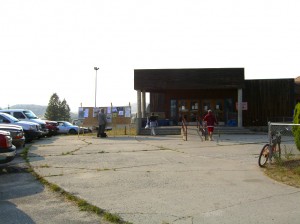 Where I work: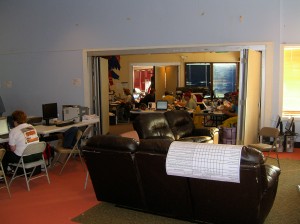 My laptop, is the one in the very center of the photograph. The Fire Behavior Analyst (FBAN) works at the desk directly to the right of that.
The meeting schedule is pretty hectic here. I present the weather at all of the ones with the "*":
0600* – Morning Briefing
0830* – Aviation Briefing
0900 – NW Fire Coordination Call
1115 – Region 1 GACC Call
1200* – Plans Meeting/Lunch
1700* – Plans validation meeting
1800* – Night Shift Briefing
2000* – Team Meeting