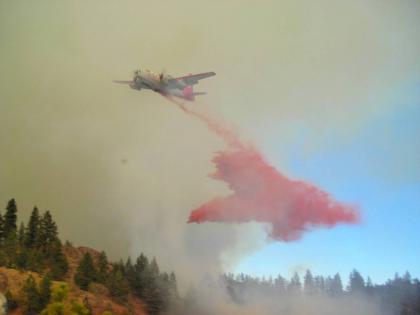 I leave this morning at 0830 for home.
There's a site called "Inciweb.com" that documents some things for the public, in regards to these wildfires. There are some cool photos there.
Also, at the end of a fire – we all write summaries of the fire from the perspective of our respective disciplines. Here's mine:
FIRE WEATHER

September 10 ? September 19, 2007

************, IMET

The 10th and 11th of September, area weather was dominated by upper level and surface high pressure with very dry air in place. On the 12th, an upper level disturbance began to push into the Pacific Northwest as it rotated around a large upper level trough strengthening over the North Central U.S. This disturbance helped to push a dry cold front through the area during the day, prompting the issuance of an anticipatory Red Flag Warning by the Spokane NWS office early in the morning on the 12th. The warning was verified by strong gusty east to northeast winds and minimum afternoon relative humidities in the low teens to around 10% across the fire. As the large upper level trough over the northern plains retreated eastward, a weak closed upper level low pressure system developed over NE California/SW Oregon. This feature remained more or less in place from the 13th through the 15th, and helped to drive very dry primarily E to NE flow over the area. Between 0946 on the 13th and 1746 on the 15th, RH at the Gold Mountain RAWS did not rise above 25 percent ? including a minimum of only 10% in the afternoon of the 14th, and a recovery to only 19% the morning of the 15th. By the morning of the 16th, the upper low to the SW of the fire had been absorbed by a larger-scale upper level trough that would dominate over the Pacific Northwest through the 19th. This meant a transition to more moist and progressive westerly flow. As a result, moderate to excellent morning relative humidity recoveries were seen from the 16th through the 19th ? with the aid of more seasonably cool daytime temperatures – critical afternoon RH?s (below 25%) were not again reached on the fire.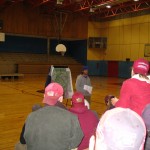 I got a couple of photos from others today. In this one…I'm doing an evening weather briefing to the team. As I was getting up to start, most all of them turned their hats backwards. …that's the way mine usually is. When this photo was taken, I think I was in the process of telling them they were all getting demerits for their behavior.

Finally, the other day we did a team photo. This is just me, and the members of Washington Incident Management Team 2. So, it doesn't include the hundreds of firefighters on the incident.