Previous or Next Landmark/Cascade Complex Entry
This should be my last blog on this fire. I just wanted to post some aerial photos of camp. Tomorrow morning is my last briefing. I then start the DEMOB process…and should be outta camp by 10am.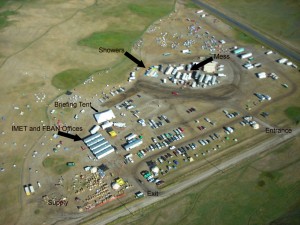 Pretty much speaks for itself.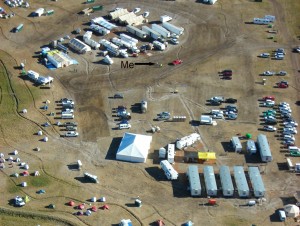 That's me (obviously), Gale (the FBAN), and my replacement – Jack, going to eat.
Also…here's my departing forecast discussion…
Warmer and drier today as upper level ridging begins to build back over the area. Warming and drying trend continues into Wednesday…with the highest temperatures seen in the area since the 16th of August, and relative humidity in the single digits in some valley locations. Mid-to-upper level moisture will begin to push into the area from the south on Wednesday… with the potential of producing very isolated afternoon and evening dry thunderstorms…

…(outlook for Thursday through Saturday) Continued warm and dry with mainly southwest flow through Saturday as the area sits under upper level ridging. Strong, gusty afternoon southwest winds will make a return for Friday and Saturday. Mid-to-upper level moisture will keep the threat for isolated…mainly dry…afternoon and evening thunderstorms Thursday and Friday.