Previous or Next Landmark/Cascade Complex Entry
I've never made it to blog #10 before on a fire. Hmph. …and I haven't really had allot to say.
Well, today – now that we've had 4 days between us and about a half of an inch of widespread rain, fire activity is starting to pick up again. Visible satellite from ~545 pm Mountain Time: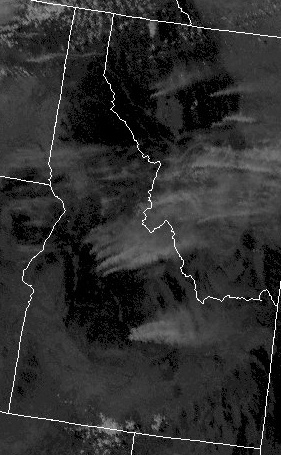 Instability has been low, so the smoke columns haven't been very impressive as of late – but you can still see allot of smoke pumping out of our fires.
Tomorrow – pending what I think of the weather in the morning, I should be able to head out with the Fire Behavior Analyst to check out the fire activity on the line. I've said it before, but I think tomorrow could be the day I get a few cool photos. Again, it will depend on the weather. If it looks like I need to hang out here and watch observations, I will.
We had a windy and dry day out there today – just barely Red Flag (3 or more hours of wind gusts >24mph along with relative humidity <16%). Tomorrow should be…wait, here's tomorrow's forecast discussion (sneak preview – edited for display here):
Strong westerly flow aloft beneath an upper level trough will translate to the surface again today, meaning another day of strong winds for the complex. These winds will accompany slightly higher minimum relative humidity thanks to moisture behind a cold front that will push across the area around mid-day. Although only slightly higher – the relative humidity should remain above warning criteria. Our upper level trough begins to push eastward for Monday, decreasing winds across the area as warmer and drier conditions begin to set in.
While our fires here in ID have been relatively tame as of the last few days, Greece has not been so lucky…
Greece declared a nationwide state of emergency on Saturday, as Prime Minister Costas Karamanlis pointed to arson as the cause of an unprecedented wave of wildfires that have ravaged the country, particularly the southern region of Peloponnese.

Fire authorities put the death toll at 47, but a senior Health Ministry official said a total of 49 bodies had been recovered.
Satellite imagery from the area…