Previous or Next Landmark/Cascade Complex Entry
Also…check out my Tripod Complex and Winecup Complex entries.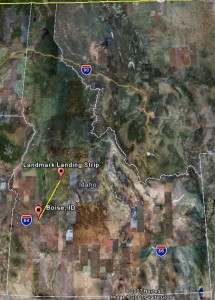 It's that time again already. …this time on my own – since I'm a certified IMET. Little scary. This one is called the Landmark complex and is sort of close to Cascade, ID. As always, you can read about it in the National Interagency Coordination Center Incident Management Situation Report
This location is a dooooozy too. Nighttime temps have been ranging from 27 to 41 degrees F. Cold. Taking extra sweatshirts. I fly into Boise, ID…and then have about a 4.5 hour drive ahead of me…if I'm lucky. In my instructions to get to the camp, I was told to – at about an hour and a half out of camp:
***(STOP THERE AND MAKE SURE THAT THE ROAD TO LANDMARK
ICP IS SAFELY PASSABLE.)***
I guess, the fire might burn over the road to the Landmark camp, before I can get there. If that turns out to be the case – that'll turn my 4.5 hour drive, into a 7.5 hour drive. Here's hoping. Most of the roads I'll be taking, for the last 2 hours or so are logging roads. So, they're primarily dirt, and very very rough. That's really why they let us rent SUV's.
Right now, the fire is 47,157 acres big, and is only 30% contained. There are 645 people working on the fire. Some implements on the fire include 39 engines and 4 helicopters.